Bariatric Surgery - Surgical treatment of obesity
Surgical methods performed MUDr.Martin Hruby, medical director of the hospital in Turnov, member of the "International Federation for the Surgery of Obesity" IFSO. The operation will be carried out in a hospital in Turnov ... More information about the hospital here.
Why choose to come to the Czech Republic?
Leading medical tourism destination due to its high quality medical care.
Hygiene requirements are very high.
Affordable. Wages and living costs in the Czech Republic are lower than contries around, meaning that procedures are also considerably cheaper, whilst not compromising on the quality of the surgeon or the care given.
The hospital is spotless, cleaner than any hospital you will find. The level of care and expertise provided by the nurses was immense. Dr Hruby is a very professional kind man who is happy to spend as much time as possible with you to answer any queries you may have. The hospital is absolutely spotless, the nursing staff are excellent and very caring. Dr Hruby makes you feel important and he is genuinely interested in you andyour progress.
Who is the surgical treatment of obesity for?
Surgical treatment of obesity is reserved for clients with a BMI greater than 40, or for clients with a BMI greater than 35 with associated diseases, especially diabetes, high blood pressure, coronary heart disease and others. The indication for surgical treatment are determined by relatively strict rules, one of which is the failure of previous conservative treatment. However, it is shown that for clients with a BMI of 40 and above is a surgical treatment is the most effective method for long-term monitoring. Success is considered a loss of half of the excess weight.
Clients whose weight or failure of previous methods ambush, leading to surgical treatments for obesity, have secured their own preoperative evaluation, performing surgery, including early-and post-operative care and other professional dispensary.
Measure your BMI and fill out the form if you are interested in more information or surgery here.
Types of interventions carried out
Within the invasive methods of treatment of obesity provide the following procedures:
Adjustable gastric banding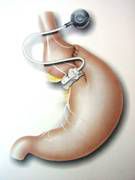 An adjustable gastric banding (AGB) is used for more than twenty years. At present, most of the operations performed by minimally invasive laparoscopic techniques. This means that it is not necessary extensive incision of the gastric wall.
How implanted cuff is circling and download the upper part of the stomach kind of "strip". Cuff narrows and divides the stomach into two parts in the shape of an hourglass. For the implanted cuff is not necessary to cut, clamp or remove any part of the stomach or intestine. This leads to two important facts:
First, gastric banding is surgery to minimally disrupt the digestive tract. This avoids a number of undesirable side effects, which are often associated with other types of surgical interventions against obesity.
Second, in exceptional cases where it is required reoperation, you can easily remove the cuff and restores the original shape and structure of the stomach.
Gastric sleeve offers the possibility of postoperative setting, ie. the diameter of the liner (narrowing of the stomach) can be set after the operation according to the requirements for optimum weight loss and by how patient benefits, via injection or removal of fluid from the strip through a small chamber located beneath the skin. This is done on an outpatient basis without anesthesia or analgesia administered.
The effectiveness of this procedure is verified by the tens of thousands already successfully performed operations worldwide. Average is achieved weight loss of half the long-term stabilization. The outcome of each individual client, however, is particularly dependent on good cooperation and compliance with the recommended mode. Gastric banding itself does not cause weight loss. Bandage only helps the wearer gain new eating habits will help reduce energy intake.
This method is indicated for clients with a BMI of 40 or more, or 35 or more in the presence of co-morbidities, in particular, hypertension, diabetes, hypercholesterolemia, or arthrosis bearing joints.
Gastric sleeve resection
In this method, using special laparoscopic staplers resect part of the stomach longitudinally along a small kurvatury remains only a narrow tubule and small stomach formed Antra.
In its operation result reduces the ingestion of large amounts of food, is a restrictive methods. The surgery is performed laparoscopically. Method unlike gastric banding surgery requires a simpler control. As a surgical method is difficult and burdened with a greater incidence of postoperative complications.
Bariatric after 60 years of age
Indication for bariatric surgery after 60 years of age, the patient should be considered individually. These patients must be accompanied by a favorable risk benefit. The primary objective of surgery in elderly patients is increasing the quality of life, prolonging the time surgery is unlikely.
Specific contraindications for bariatric performance
Alcohol abuse or drug addiction.
Diseases in the foreseeable future life-threatening.
Inability to self-care without long-term family or social support that such care.
Do you need more information?
If you are interested in more information on this issue, ask the doctor - only for patients with an interest in these operations. For any questions or information you requested term consultations and operations send to info@behealthy.cz.

Why Branding Obesity as a Disease Is a Step in the WRONG Direction...
Prices
Dear Valued Customer,
As a pre-Christmas gift, BE HEALTHY is offering a special deal:


Get a DISCOUNT OF €200 for all services/surgeries
in October and November 2015.

Enjoy your pre-Christmas gift and contact us to make your surgery/treatment reservation.
| | | |
| --- | --- | --- |
| Prices in Euros: | gastric wrap/plication | = 2400 |
| | sleeve | = 4500 |
| | bypass | = 5250 |
| | band | = 2500 |
band removal = 1200
revision surgery, please enquire
Price includes all pre operative examinations (blood tests, gastroscopy, ECG, spirometry, chest x ray), post operative leak test where required, meals and drinks, medications in hospital and to come home with, and up to 2-3 days of hospital care.
Transport 1 car from the airport to the Hospital
= 90 Euros
Accompanying person
= 30 Euros/day (inclusive of bed and standard hospital diet)
Gall bladder removal
(as a part of bariatric procedure)
= 280 Euros
Hernia repair
(as a part of bariatric procedure)
= 180 Euros
All expenses for a surgery must be paid up front, at least one day prior to
a hospitalization. Based on your answers in the questionnaire, we will provide you with the cost of your treatment and our account number.
If using credit or debit cards, please let your bank know about your payment before you leave home, so that they do not block the payment, and make sure your credit limit is adequate! Credit card payments overseas can be very expensive, please check the cost beforehand to avoid disappointment.